A comprehensive interpretation of NFC technology, so many application areas?
19-05-2021
3. The latest NXP NFC mobile device payment solution
  1. Overview of NXP NFC chip
  NXP NFC chip is PN66T, PN548C2 conforms to the latest NFC specification formulated by the European Telecommunications Standards Institute (ETSI), which can provide mobile phone manufacturers and mobile operators with a fully compatible platform for launching next-generation NFC devices and services. PN66T is fully compatible with all currently published NFC specifications that connect the SIM card and the host controller interface (HCI) through the Single Wire Protocol (SWP).
   In addition, NXP works closely with leading SIM card manufacturers such as Gemalto, Oberthur Technologies and Giesecke & Devrient to ensure the interoperability of SWP interfaces including MIFARE technology. PN66T is PN548C2 plus NXP's SMART MX2 security module. The PN66T hardware pair is fully compatible with PN548C2 BGA version PIN. PN66T is the latest generation NFC full terminal solution chip.
  2, PN66T features:
  • PN66T is the only mobile application product in the security component that has passed the general standard EAL6+ certification, providing the highest level of data protection and encryption for end users, bank card issuers and smartphone manufacturers.
  • PN66T has passed EMVCo (Europay, MasterCard and Visa) certification to ensure that secure payment services can be widely deployed worldwide, while also ensuring interoperability with traditional and future payment infrastructures.
  • PN66T can realize the integrated deployment of many applications related to transactions, including mobile payment, access control, public transportation and identity verification.
  3, PN66T and PN548C2 the following advantages:
  • ARM cortex M0 core
  • Flexible from the NFC Forum host interface to comply with National Standards (NCI)
  • Dual SWP interface
  • Optional platform-independent software stack
  • Provide GPIO PORT for external unit control
  • Wider voltage connection support.
  • Support safety unit control interface
  • Support the latest RF protocol standards (ISO18000-3, Kovio tags, HID iClass tags)
  •Support multiple RF interface protocols: ISO14443A/B, ISO15693, MIFARE, Felica.
  4, SmartMX P61N1M3 features:
  • SmartMX2
  • C090NV
  • SPI
  • JavaCard GP 2.2 OS
  • MIFARE
  • DESFIRE
  • CC EAL6+ /EMVCO
  • Multiple Applets
  5, NFC PN66T/ PN548C2 hardware circuit block diagram: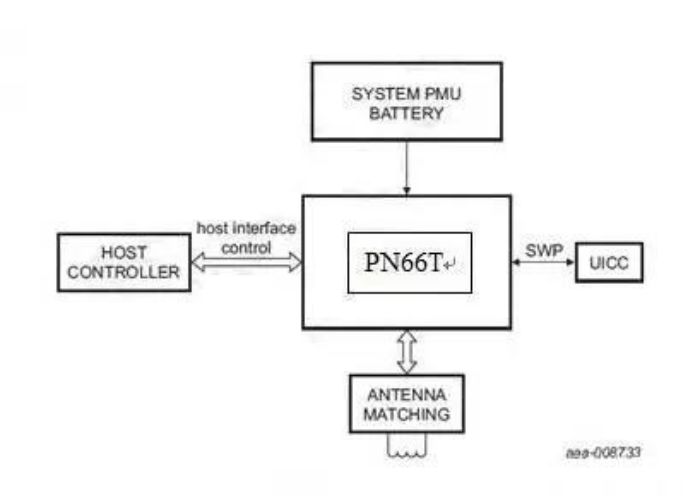 The NFC electronic money wallet function uses mobile devices such as mobile phones as the transaction platform. The two parts, the PN66T NFC controller and the built-in security module, realize the mobile device payment and data exchange functions.
  NFC-SWP software architecture block diagram:
   Standardize the software architecture of the NFC-SWP terminal and the functions of each unit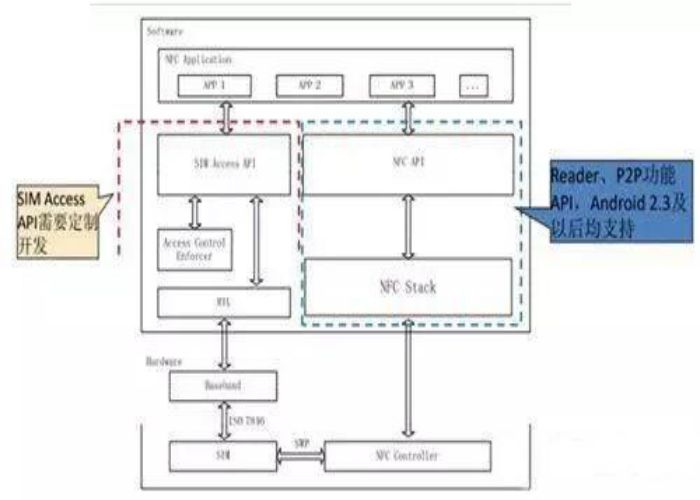 NFC and SIM card security module interface circuit, NFC IC with SWP one-line interface can realize data communication with NFC-SIM card, the current NFC mobile payment solution led by China Mobile.
Fourth, the advantages and disadvantages of NFC payment
  ●Advantages: Compared with traditional short-distance communication payments, NFC payment has the advantages of security and faster connection establishment. The payment distance is less than 10 cm, which can avoid mutual interference between devices. In addition, the time to establish a connection is less than 0.1 second, which better guarantees the security of user payment and has a lower cost.
  ● Disadvantages: The popularization of NFC requires a large number of hardware devices to support, and the premise for mobile phone manufacturers and financial institutions to deploy a large number of hardware devices is to have a large enough market. In addition, this payment method also faces issues such as the standards of whose house is used, what to do if the user loses his mobile phone, and how to set the payment limit.
   5. NFC technology applications and scenarios
  NFC devices can be used as contactless smart cards, smart card reader terminals, and device-to-device data transmission links. It has a wide range of applications, and NFC applications can be divided into four basic types. For applications such as access control or traffic/event ticket checking, users only need to bring the device storing the ticket or access code close to the reader. It can also be used for simple data capture applications, such as reading URLs from smart tags on posters.
  Contact, confirm. In applications such as mobile payment, the user must enter a password to confirm the transaction, or only accept the transaction.
   contact, connection. Connect two NFC-enabled devices to perform peer-to-peer network data transmission, such as downloading music, exchanging images, or synchronizing contacts.
  Contact, explore. NFC devices may provide more than one function. Consumers can explore and understand the functions of the device and find out the potential functions and services of the NFC device.
   1. NFC is used for payment and ticket purchase, for example: China Merchants Bank's Yixiantong, etc.
  2. NFC for smart media For phones equipped with NFC, using its reader/writer function, users can get rich information or download related content just by touching smart media.
  3. NFC is used for electronic tickets Electronic tickets are the access rights stored electronically, and consumers can purchase this right to obtain the right to enter the entertainment venue.
  4. NFC is used for connection and as a wireless activation device. Consumers want wireless connection to be simple and convenient, but the convenience and mobility promised to consumers have not yet been fulfilled.
   Due to the high security of NFC payment, this technology is considered by the industry to have great development prospects in fields such as mobile payment. As a mature payment technology, NFC has been applied in many fields. According to industry insiders, once the industry standards for mobile payment are unified, NFC payment is likely to become the mainstream mobile payment method in the future.