2 Ports Serial To Ethernet Servers Model: ST-TCP520i
2 Ports Serial To Ethernet Servers Model: ST-TCP520i
FOCUS

SHAN DONG

10DAYS

5 million/year
2-port serial to Ethernet servers ST-TCP520I can realize transparent transmission between TCP/UDP data package and RS232/RS485/RS422 interface.

● 2-port RS-232/422/485 serial to Ethernet servers
● Power supply accepts wide voltage input range DC 5-36V
● Support TCP server/client, UDP server/client, https client, Virtual COM
● Support Modbus RTU to Modbus TCP
● Support flow control CTS/RTS, XON/XOFF
● Support 2 RS-232, RS-485/422 3IN1 serial port to 1 10/100Base-T(X) self-adaptive Ethernet interface
● Configuration via Web Server page, AT commands, and Windows Utility
ST-TCP520i
2 Ports Serial to Ethernet Servers
---
2-port serial to Ethernet servers ST-TCP520I can realize transparent transmission between TCP/UDP data package and RS232/RS485/RS422 interface.

● 2-port RS-232/422/485 serial to Ethernet servers
● Power supply accepts wide voltage input range DC 5-36V
● Support TCP server/client, UDP server/client, https client, Virtual COM
● Support Modbus RTU to Modbus TCP
● Support flow control CTS/RTS, XON/XOFF
● Support 2 RS-232, RS-485/422 3IN1 serial port to 1 10/100Base-T(X) self-adaptive Ethernet interface
● Configuration via Web Server page, AT commands, and Windows Utility
Technical parameters
System Information

Processor

Cortex-M4

Basic Frequency

120MHz

Flash

512K byte

Ethernet

Port Number

1

Interface Standard

RJ45

Rate

10/100 Mbps MDI/MDIX, auto switch between cross and direct connection

Protection

2KV electromagnetism isolation, shell insulation blocking

Network Protocol

IP, TCP, UDP, DHCP, DNS, https, ARP, ICMP, Websocket, httpsD Client

Receive Buffer

Max 16k bytes buffer

Serial

Port Number

2 (RS232/485/422*2), 2 serial ports can simultaneously work at the different working modes.

Interface Standard

RS-232: TX/RX/RTS/CTS

RS-485: A+/B-

RS422: TX+/TX-/RX+/RX-

Data Bits

5, 6, 7, 8

Stop Bit

1, 2

Check Bit

None, Even, Odd, Space, Mark

Baud Rate

600 bps ~ 230K bps

Flow Control

RTS/CTS/Xon/Xoff

Buffer

Send and receive 2k bytes respectively

Protection

ESD protection, anti-surge

SocketA




Transparent Transmission Mode

TCP Server/TCP Client/UDP Server/UDP Client

Supported Function

Networking printing, Modbus Gateway, USR-Cloud, self-defined registration package, self-defined network and serial heartbeat package

SocketB

TCP Client/UDP Client

Software

Virtual Serial(USR-VCOM)

Windows 2000 or higher (32 bit/64 bit)

Configuration

Built-in webpage, computer set-up software, serial command

Basic Parameter

Size

150 x 79 x 30 mm

Operating Temp.

-40 ~ 85°C

Storage Temp.

-45 ~ 105°C, 5 ~ 95% RH

Input Voltage

DC 5 ~ 36V

Working Current

95mA (aver) @ 5V

45mA (aver) @ 12V

Power

<1W

More

Certificate

CE, FCC, ROHS, KCC and WEEE pending

Warranty

2 years

Accessory

12V power supply, serial line, cable, converter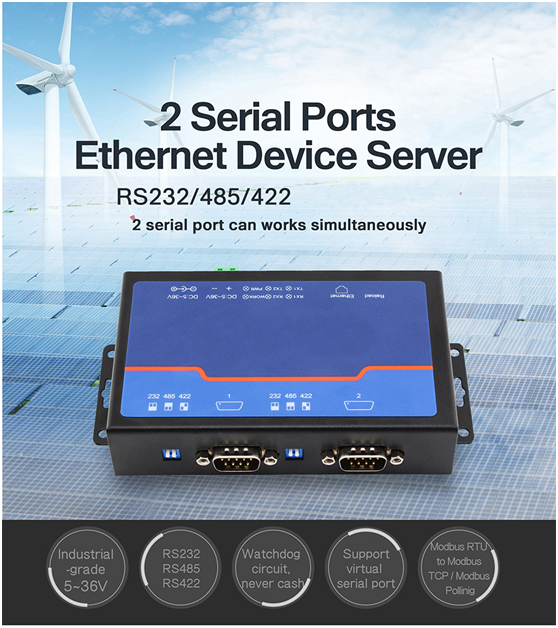 Basic Function of Serial to Ethernet Servers

Serial Ports
l
Baud rate: 600bps
~
230.4Kbps
l
Hardware flow control: RTS/CTS
l
Software flow control: XON/XOFF
l
Serial data can be divided into frames flexibly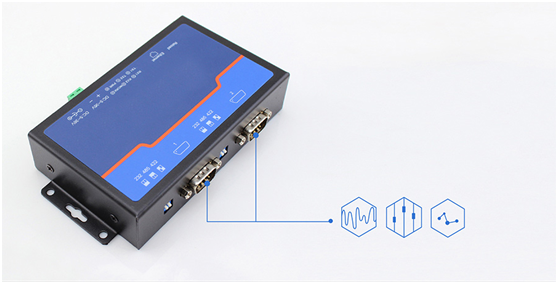 Serial Port Switching Among RS232/RS485/RS422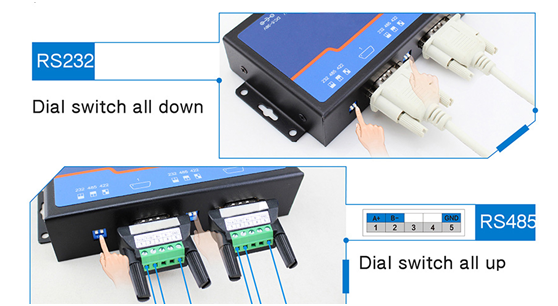 Work mode
TCP Server
Serial to Ethernet servers ST-TCP520I listens on the setting port and waits for a TCP client connection. The data which the serial ports sent out transparently transmit to all connected TCP clients via ST-TCP520I.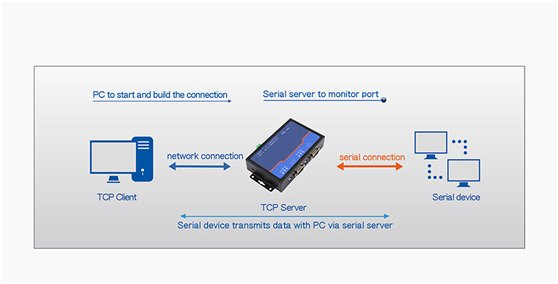 TCP client mode
Serial to Ethernet servers ST-TCP520I initiates a TCP connection to the set IP address.
If the connection fails, ST-TCP520I will keep trying to reconnect until it succeeds. Once the connection is successful, the data will be transparently transmitted between PC and serial device in bi-directional.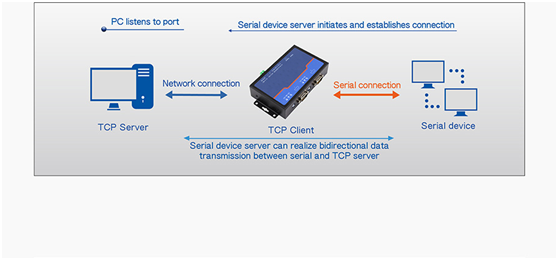 UDP mode
Serial to Ethernet servers ST-TCP520I will transmit serial data from serial device to
target network device by UDP connection. ST-TCP520I will listen to port and transmit all received data to serial device.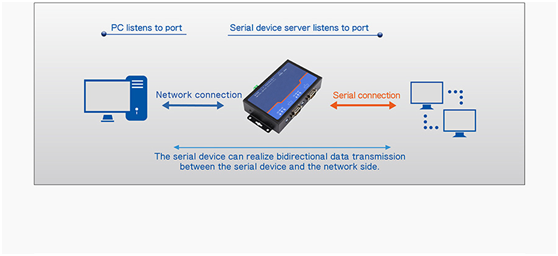 httpsD Client
Supports https Client mode which can transmit serial data to the https server in https format(GET/POST).

WebSocket
Supports WebSocket Sever,Built Websocket link with devices by Websocket of webpage HTML5
Data transmission between built-in webpage and serial port in bi-directional Custom webpage and websocket are acceptable Achieves the functions of displaying data in real-time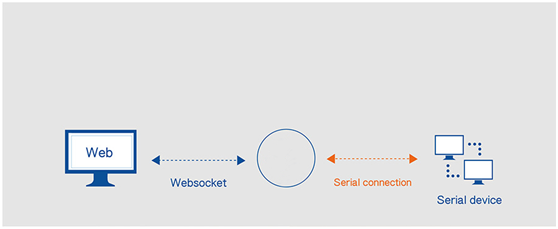 Virtual Com Software
Features
Socket B function
Serial to Ethernet servers ST-TCP520I supports the secondary network link, which can send data to two servers. Used for data backup, remote diagnosis, and other requirements.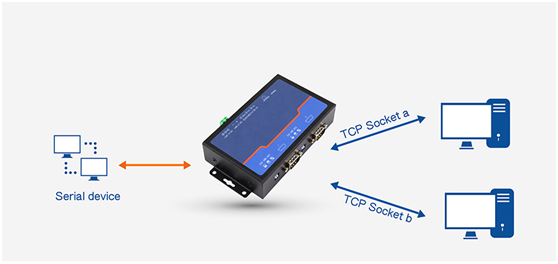 Support modbus gateway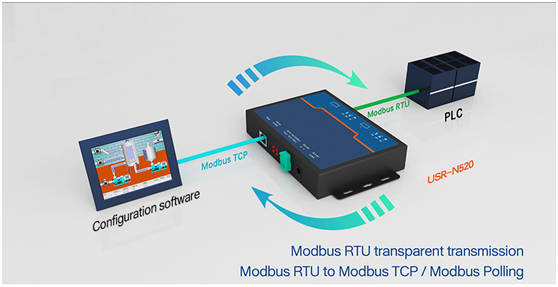 Application
Unattended Weighing System
Connect serial to Ethernet servers ST-TCP520I to barrier gate and it can realize remote
control of barrier gate by Ethernet in control center.